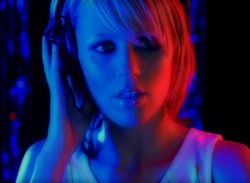 Stijl: UK garage


Femme Fatale began playing UK Garage as an 18 year old in her University town Bournemouth. Since then, she has brought her souped-up mixes and dancefloor shaking style to crowds up and down the country, playing Glastonbury, Sidewinder, Sun City, World Dance, Slinky, Peach, Twice as Nice and securing residencies in the main room for Smoove @ Ministry of Sound and for Garage Heaven @ Eden, Ibiza.
2002 will see DJ Femme Fatale rise from the ranks as one of the most highly rated young underground DJs to one of the best known female DJs in the country as she signs to 1xtra for a show dedicated to playing the best in upfront UK Garage in a flagship show from 9-11 on Saturdays.

She kicked off the year on New Years Day with a prime time show on Radio 1, having been the first female DJ to be invited to play a guest slot on Dreem Teem Presents. Since then she's covered numerous shows for the Dreem Teem and her success on the airwaves has also included shows on Kiss 100 and Choice FM in 2001.

Femme has been extremely successful abroad playing sets in Lisbon, Paris, Milan, Zurich, Ibiza, Dallas, Amsterdam, Rotterdam and sets at Radio 1 and MTV Base in Ayia Napa.

Her move into other parts of the Music industry has been inevitable and recently she has worked with Polydor on A&R and Club Promotions. Her own label the firmly underground 'Fatale Attraction' was begun earlier this year. Her first release 'The Sword' by DJ KG sold out in 4 weeks and the next release is due out shortly. Femme has also been involved in the studio on her own production project, working with vocalists on tracks which fuse garage, indie, breaks and trip hop. She has also become a natural choice for playing the featured DJ in various UK Garage videos.

Her success has not gone unnoticed and press has included Sleaze Nation, Echoes, Mixmag, Touch, Esquire (top female djs in Britain feature), Untold, Loaded (girls to look out for in 2002), Seven mag (faces to look out for 2002) and front covers of Deuce, Rwd and the South Coast's DV8. Also look out for Femme Fatale on BBC Choice in October 2002.

Femme has been recently nominated for the "BBC Underground 2003 awards" for best up and coming DJ/ Producer which will be televised on BBC in February 2003.
Performances