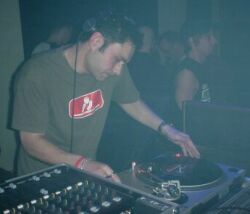 Dimi Angelis is a Dutch producer, and techno/electro DJ, born on island of Corfu, Greece, but grown up in the Netherlands, where he was in touch with music since his youth. Until the age of 21 he was inspired and driven by rock music, which he put into practice through playing saxophone and drums.

In the summer 1992, during his stay on Majorca, he discovered house music for the first time. Over the coming years he absorbed influences by various house artists, which inspired him to get actively involved with house music himself: in 1997 he became a DJ.

In those early beginnings of his DJ-ing career, he mostly drew influences and inspiration from Dutch artists Angelo, Steve Rachmad, Dimitri and Remy. Dimi's style in those years can be described as a merge between elements of house, trance and techno.

Soon after, Dimi's taste and affection towards house are to be refined, and his artistic expression grows to be bound to techno. His biggest influences become Laurent Garnier and predominantly Steve Rachmad and Jeff Mills. Steve Rachmad's and Jeff Mills's works remain his greatest inspiration up to this date.

Towards the end of 2003 Dimi joins a talented Dutch artist Jeroen Search, with whom he produces Ion 01 and 02 EPs, which are to appear on Steve Rachmad's new sub-label of Scorp, 'Ion.' These productions are to be described as deep, minimal, groovy techno, which are also the main attributes for his DJ sets.

So far Dimi Angelis performed at numerous clubs and events, of which the most important ones are the respected Awakenings (Amsterdam), Club One (Madrid), Doornroosje (Nijmegen, Holland), Mazzo (Amsterdam), 013 (Tilbug, Holland), Tuzla (Bosnia), Gent (Belgium), Effenaar (Eindhoven, Holland), Simplon (Groningen, Holland), Melkweg (Amsterdam), Paradiso (Amsterdam), Stubnitz Boat (Amsterdam), Funki Bizniz (Eindhoven, Holland), De Vloer (Utrecht, Holland), Bootleg (Rotterdam, Holland), etc. He is nevertheless a resident at Speakerplay (Hotel Arena/Heineken Music Hall, Amsterdam).

As a wish to unite the contemporary techno dye hearts, and preserve the underground origins of the techno scene, in September 1999 Dimi has started organizing non-profit underground parties, which usually take place in nature or abandoned lofts. With his concept he attracted many respected artists, who keep performing at these events for free: Steve Rachmad, Estroe, Petar Dundov, Joel Mull, Shinedoe, Jeroen Search, Seutek, Joachim, Quazar, Diskordia, Pelacha, etc. This is only one of the ways in which Dimi shows his great affection, talent and artistic potential towards techno.
Performances