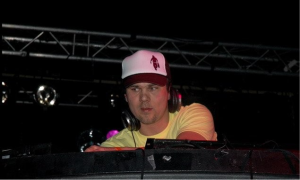 Stijl Dirty House/ Progressive Tribal


EMJAY AND HOW THE STORM BEGAN

Emjay smiles as I step into the new office in a warehouse loft at Amsterdam's Canal Island Prinseneiland were he and a partner recently started their new company called Storm Productions. "Storm manages most of my activities and Storm takes my music and DJing one step further by adding a hurricane of action theatre, acrobatics and visuals. It is 2005 now. We like it "de la Guarda" style, – a specialty of my partner who has years of experience in this", says Emjay . And by the way we are setting up our own record label ". A strong coffee is being served. "I haven't slept much over the last two weeks and worked all night to write a column for a music mag, but it is fine for me. I am nocturnal by nature."

Mobiles go off at the nice furnished office were two attractive girls work on lap tops. "It storms here because we have a lot of demand for shows from clubs at the moment, and my good friend Paul Oakenfold is visiting Amsterdam for a long recording session. I arrange him some equipment and a studio. Oakenfold asked me in 2001 to compile a special edition of The Underground Sounds of Holland for Perfecto and invited me to play with him several times like Pacha Ibiza, Miami and at Heineken's Thirst event last year in Amsterdam

The other good news of today is that Emjay's new killertrack "M.S.N". has been chosen to be TMF"s (Holland's #1 music tv station) 10 year anniversary theme. "In 1999 I started hanging out in studios with several friends, like Jaimy for example, and now I have a group of serious and professional producers working with me. I inspire them with my tribal club music and how I play it and they inspire me for what they make. But we're always motivated to push the envelope. I am very open minded towards new music. Unusually in a world where most stick to either music or business Emjay has straddled both in harmony. In his flawless tribal driven sets one can expect any influence from house, electro to pop and trance.

So how does someone who started with but a pair of technics living in a small apartment in the Red Light District finds himself playing clubs worldwide, debating with Dutch ministers about hypocrisy, writing newspaper articles against club closure, setting up an artist collective, A. & R.ing a studio and volunteering for the Salvation Army by giving DJ workshops for kids ? The driving force behind Emjay's unlimited positive energy, passion and creative initiatives lies in the past..

Emjay, moved to Amsterdam around 1990 , age 18 and witnessed the rise of electronic dance music. "I was fascinated by this so called "vogue" music that made me dance week after week. It was music, it was an avant-garde show. I employed myself in different jobs to stay close to the music. I worked as a bartender at a gay bar, at Outland recordshop and, believe it or not, as the doorman at the first illegal after parties just to spin some records at the end of the party. After sending out carefully made mix cd's Emjay got support from his favourite DJ's and in 1995 a three year Friday and Saturday residency at the famous Amsterdam club Sinners in Heaven started. Back then Emjay played 3 days a week house music "all night long" and learned to build up a night.. Soon Emjay played every club, festival and (after) party in Holland.






"Because I am quite fanatic in what I do, I attracted more fanatic people that were in for the music and not for "the scene" . Most of them are still my friends today. I
Important friends to me were jet set king Koen aka Kommander K who lived a life of hanging out with Jack Nicholson at Versace's party . Koen flew me in to every corner of mother earth's dancefloor. And MTV director Erik Kross aka DJ Kross who learned me the importance of creating your own hits.

With Kommander K., and Kross , Emjay started a pioneering clubconcept in 1999 called "Kremlin". Amsterdam was ready for a club with global ambition, so we found a large venue and we did it. At some point we could invite all our global heroes to join at the turntables… Timo Maas, Lawler, Digweed, Sister Bliss, Oakenfold, Cattaneo, they all enjoyed playing at Kremlin where lines were huge at 10.00 pm. Dutch DJ's like Tiesto,and Remy were frequent guest DJ's. In 2002 Kremlin won the award best clubnight of Holland, and in the same year Emjay quit.

I wanted to focus on the studio and finding new ways of performing. In 2004 this led to the start of Storm Productions, a company where different music and new theatre blend together in a Storm of entertainment." So what can we expect in 2005 ? Well here is the answer : A period of hard work, discipline and focus made Emjay better and more prepared then ever, and this time his pumping flawless sets include a spectacular show built around his own music. Let the Storm begin !!