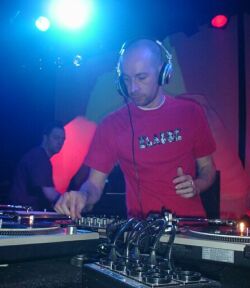 Succesvolle DJ en Producer. Samen met Dave Hill ook bekend als Rue East (van het nummer Birmingham).
Mark Broom is begonnen als Dj bij de "Black Dog" en ging vanaf 1991 zelf experimentele Techno produceren. Hij heeft zijn eigen "Pure Plastic" Label.
It features minimal techno as well as melodic tracks with beautiful string sounds. Some younger releases go into a more trippy downtempo direction. Apart from his solo work and his tracks he's done together with Dave Hill, there have been releases from Steve Pickton aka Stasis, Steve O'Sullivan (Bluespirit, Mosaic, Bluetrain, Green) and Lee Grainge (Fat Cat) as Original Vintage (pp009), Milo Smee aka Kruton, Kape I'll Miester which is a collaboration of Mark Broom and Steve Pickton, S.A.S. from Belgium and from Koolaking. Other artists who contributed tracks are Ed Handley from Plaid (pp005), Peter Ford (pp003), Tony Edwards (pp002), Koen Lybaert aka Starfish Pool, Ben Sims, Steve Paton and Parallel System.
http://music.hyperreal.org/bford/ifach/other.html
Mark Broom
Verenigd Koninkrijk
http://