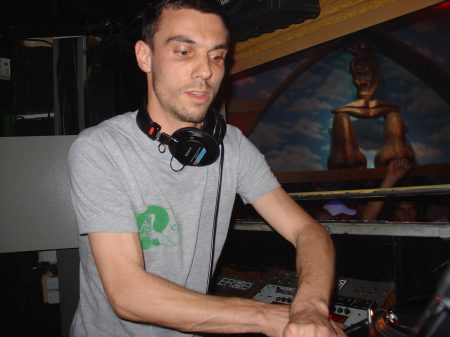 1987-89
First contact towards House-music at FRONT, Hamburg, then visiting the club weekly. He bought different House-records and started trying to mix. Mix-tapes of Steve are sneaking through the city and he starts playing at private-parties.

91
At MAXX / Bremen he started public Deejaying on self-organized parties. A short time later he opened a weekly Sunday-House-club. Friends let him have a few gigs at ³Park Café"/München

92
The Sunday-club ends. From now Steve plays every friday at MAXX together with Jens Mahlstedt. After having played even at Babalou /München, DJ Henry from Hamburg helps Steve to get a gig at UNIT/Hamburg.In summer of ´92 he playes again together with Jens Mahlstedt on Love Parade /Berlin. In winter 1992 first visits at Henry´s studio……..

93
Together with club-owner H.Hellmann and Jens Mahlstedt he establishes T-Dance at Modernes /Bremen. In may 93 he is convinced to become a full-time musician and quits his job as a hairdresser.Then he meets Gerret Frerichs who offers to work together at U.M.P.- studio. in september he seperates from MAXX because of a change of the owner. In october he´s playing on Nation 2 Nation and the first time at E-Werk Berlin and continuing working with Henry.

94
He is convinced to move to Hamburg. There are many parties at FRONT which are organized by Steve and the Pure Energy-Team (DJ Henry, Tobias Lampe) of UNIT and he moved to Hamburg, PHAX feat. Steve Bug appears on Superstition. In August appears the first production of Gerret Frerichs and Steve Bug named Goldfinger also on Superstition. He playes monthly at Tunnel /Bremen (Ex-MAXX). In october Steve starts buying equipment and spents all time with it passion.

95
Soon after having bought the first equipment he creates his first solo productions and appear in march on Superstition. The Ep´s Bugwahn and Mein Bug, Dein Bug earn world wide success. Remixes out of this two records have been released also through Rising High UK as the Bug For Everyone - EP. In summer follows the release of Bride & Bridegroom. Two months later apear the remixes of Fred Gianelli called Telepathic Bed Bugz - EP. It´s a new interpretation of 4 of Fred Gianelli´s most favourite Steve Bug-trax.

96
In January/February it´s time for the first realeases of Steve´s label Raw Elements. Steve Bug vs. Acid Maria, Bride & Bridegroom-Rmx, and Brunchbox. Next to H0 appears also a production of Steve Bug on the Radikal Fear-Sublabel Black label. Remixes by Fred Gianelli are planned as well as the first album which is to appear in autumn 1996. In April 96 Steve Bug played a fabulous set at MAYDAY X. His HO Future Lines are released on Stickman Records in Septmeber 1996.

97
In the beginning of the year Steve Bug releases his new Maxi single, On The Road Again which is followed by another 12" titled Volksmusic. Furthermore in spring 1997 he did the concept for the huge respected DCD-compilation, Steve Bug presents: DA MINIMAL FUNK, which documents Steve Bug´s DJ-style and convinces with minimal Kickkk. In autumn 97 the first the solo-album of Steve Bug, VOLKSWORLD.

98
Drives Me Up The Wall is the first 12" taken from the debut album Volksworld and appears in January of 1998. It´s followed by the first SUPERLOVA-12, a new project of Steve Bug on Raw Elements. Steve Bug founds a new label named Dessous Rec., starts and reanimates cooperations with Sander Kleinenberg and Acid Maria. He has become one of the most recommended german Club DJ´s and is highly appreciated all over Europe.

99
Steve stops his succesful label Raw Elements at it´s peak to start up his new outlet POKER FLAT through the structure of the Hamburg based Superstition Recordings GmbH. Already the first relaese on POKER FLAT strikes in full effect: The Double Action EP incl. the massive track Loverboy. In Autumn the Loverboy Remixes are released feat. new mixes by Josh Wink, Primitive Dub and Matthias Schaffhäuser.

2000
Steve Bugs second Album is currently produced and will be released in Spring. In April his label Dessous Recordings will release the first labelcompilation.