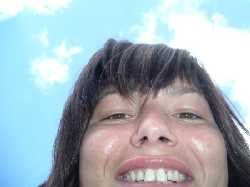 Interview met Groovetrackers:

Isis, fijn dat je mee wil werken aan een interview ivm met je 12,5 jarig jubileum dat volgend maand gevierd gaat worden. Hoe je het vieren?
Zaterdag 23 oktober as organiseren All is One en Playground samen een groot feest ter ere van het Amsterdam Dance Event. Daar vier ik mijn jubileum.

Je hebt een mooie kijk op het deejay zijn, wil je nog 1x vertellen wat voor jou het deejay'en precies inhoud?
Deejay zijn is voor mij een moderne vorm van Sjamanisme. Samen met het publiek probeer ik een eenheid te vormen die voor beide partijen inspiratie, maar ook ontlading en zelfs verlichting biedt.

Als deejay geniet je van een enorme bekendheid, zelfs tot ver buiten de dance scene weten mensen wie je bent) vanaf welke periode besefte je dat je met je muziek een grote indruk maakte op mensen?
Er zijn verschillende momenten geweest waarop ik merkte dat mijn bekendheid groeiende was. Het hoogtepunt in Nederland kwam rond mijn twintigste. Ik bracht toen in korte tijd twee albums uit en stond in werkelijk alle kranten en bladen. Ik geloof dat ik toen een beetje moe ben geworden van alle aandacht en heb me bewust een tijd rustig gehouden.
Een ander moment was toen ik op een eilandje in Azië op vakantie was en in een afgelegen baai logeerde waar je alleen met een bootje kon komen. Toen ik een kopje thee bij het enige barretje bestelde, kwam de jongen in de bediening met een cd van mij naar me toe voor een handtekening. Aangezien ik nog nooit in Thailand had opgetreden betekende dat veel voor me.
Maar het allerbelangrijkst is voor mij het moment waarbij je samen met het publiek die magische eenheid vormt waarbij je kippenvel krijgt en alles perfect is. Dat is de mooiste manier van delen met het publiek waarbij geen verbale informatie meer nodig is.

Je hebt door de jaren heen vele mooie plekken van de wereld gezien, er is zelfs een tour door India geweest, welke periode/gebeurtenis is je het meest bijgebleven?
Ik zou niet kunnen kiezen. Het eiland Ibiza heeft wel al jaren een grote plek in mijn hart. Zowel als mens als als Deejay.

Welke rol heeft Amsterdam, als dance-capital, gespeeld in je loopbaan?
Amsterdam dat is mijn favoriete stad in Nederland. Ik heb er residencies gehad in RoXy, Richter en Chemistry. De laatste jaren heb ik voornamelijk voor Mazzo en 020 gedraaid en niet te vergeten mijn eigen avonden State of Bliss, Magma en All is One.

Er is ongeveer 2.5 jaar geleden een mix album uitgekomen, toen draaide je dus 10 jaar lang. Houd je voor je nieuwe mix cd hetzelfde aantal jaren aan?
Ik zou dolgraag eigen producties uitbrengen, maar kom er eigenlijk weinig aan toe.

In het lijfblad van UDC (XPRS) stond een fotoreportage die nogal voor wat "opschudding" zorgde. Word je er vaak aan herinnerd?
Er werd ons gevraagd 'zomerse' kleding te dragen. Op de set bleken ze dat wel heel erg zomers te interpreteren. De fotos waren gewaagd, zagen er goed uit, maar waren kuis. Ik heb wel gekkere dingen gedaan. Nee, ik zeg niet welke.

Hoe gaat het met "jouw" boekingskantoor "MAGMA"?
Magma is naast een artiestenagentschap ook een productiekantoor.Er gebeuren allemaal spannende en leuke dingen. Zo hebben we afgelopen augustus weer de productie van het tipi dorp op Mystery Land gedaan. Op zaterdag 6 november zal Magma in de Amsterdamse Hortus een sensatie voor de zinnen presenteren met onder andere Aroma Jockey Odo7, een van de meest populaire artiesten van ons agentschap. Verder staat Magma ook aan de productie van de All is One feesten.

Gaat het draaien, en alles wat er bij komt kijken, wel eens vervelen?
Nee, maar deze vraag wel

Kijk voor mijn agenda op: www.djisis.nl

Dankjewel!


100 % ISIS, Isis van der Wel, has always been a major force on the Dutch and European dance scene. Since 1997 she's been playing around the world. Showing a talent for music already at the age of six, Isis attended music- school. At age seven she played several instruments. Lack of inspiration made her buys her first (house) record at 12 (1987). Lack of inspiration became inspiration. After two years of serious clubbing she started mixing.

She has played in practically the entire gamut of European quality' clubs like: Rex (Paris), ROXY (†) and Chemistry (Amsterdam), Tresor and E-werk(†) (Berlin), Fuse(Brussels), Cafe D'Anvers (Antwerp), The End (London), and in Ibiza - Pacha, Amnesia, Space, and adding to just more than DJing, she initiated the production of the popular underground ClubLove parties in Km5.

She has toured extensively throughout Scandinavia, Israel and of course the whole of Europe. Furthermore, she has composed releases with French/Dutch producer Eric Nouhan.

Currently she is working on her full-length album of which the first single will be released in the year 2003. Her sparkling style and playful approach can be best described as an uplifting adventure into the here-and-now of modern dance music. This results into a unique blend of organic universal techno', unconventional' house, tribal-and Latin-influenced grooves, funky break beats and, anything original and genuine.

Being one of the youngest successful DJs around 100% ISIS (Isis van der Wel) is definitely to be watched!