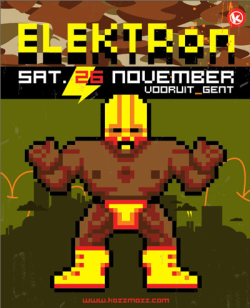 Elektron is a concept by Mathias Kerckhof of Kozzmozz who is advised by DJ Spacid from Funky Green Aliens on the musical programmation. Elektron was launched in 2004 to provide a platform for international and local electro-artists.

On previous editions of Elektron the public went wild to the sounds of dj's and live-acts such as : Anthony Rother, Poladroïd, Steffi vs. Dexter, Godfather, Cosmic Force and Bass Junkie from Ed DMX's Breakin' label as well as Di'jital from Detroit and Mr. DMX himself.

This edition of elektron is dedicated to Booty Bass and Ghetto tech, you know the up-pitched electro with nasty, dirty sextalk that already went down really well on 10 years Kozzmozz !

And who have we got in store for you …

Elektron is very proud to welcome DJ Assault, thé booty bass / ghetto tech dj. from Detroit. The man we all know from underground hits as Ass & Titties, Let me C U Pop, Hoez get naked, …

Expect a steaming hot set from this technical master that will sure set the ladies in the house on fire.

But there's more :

Novamen is the ultimate reïncarnation of Hashim, gemixed with Kraftwerk and Afrika Bambaataa. Or also: superior old skool electro funk. Feel that bass? Lower, lower, even more lower, …. Oh yes, Novamen have a fine grip on this style!

Novamen are well wanted internationally and there aren't many opportunities to see them live in action. Luckily they gladly make an exception for Elektron. And when the gentlemen do come out of their cave, they usually blow the roof off !

So Elektron guarantees a divers and innovating musical programm but that's not all ….

The Vooruit venue will also bathe in a true Elektron atmosphere with decoration that hints towards the futuristic world …. To keep the atmosphere dark and underground but still intimate, Elektron will also move from the concerthall to the ballroom for an even bigger party-pleasure !

C-Mikron (Aaaight!, C-mikron.com)
C-mikron discovered the sound of electronic music as a teenager and
immediately infected by the virus, he started going out, first to 'mainstream techno' party's, soon followed by electro- and acidparties. This interest grew out to a real passion, exploring the electronic music world from ambient & electro(nix) over jungle to break/hardcore and beyond. It was a logic consequence that C-mikron soon started to spin the turntables himself. First buying only electro, later on also tekno & acid, electronix/ambient, jungle…

C-mikron sets are known for long mixing with a lot of faderwork, always
building up to multiple climaxes. Over the years he developed his own
energetic style which brought him to Germany, France, the Netherlands, and
of course the leading electro-concepts in his home country Belgium such as
ELEKTRON, Twisted Hardware, Rephlex label night, Warp label night, 7
days-festival…

Since september 2004 he is resident of a new K-town based concept called Electric Mayhem. In february 2005 he got his second residency in a little bar called Canard Bizar in Ghent, soon followed by another residency at the Spaztic Label Nights.

More info : http://www.c-mikron.com


Shaman feat. SHED (SHADOWBOXING)

His first dj appearance was in the mid 90's. It was at an illegal party in the 1030 downtown area of Brussels. He met Futuraz at this time with Underground Concept. Basically, formed with SFO & STEL-R (pop zero) as well. Loads of events, bar project & radio shows followed. Another major meeting for Shaman was Twisted
Hardware members, when he was invited to play for their first event called
mechanical impulse' an haunted party including a fat labyrinth. Then Shaman
created several projects & concepts as Fucking aliens' (with stel-r), Formatted industries' with the sick droids series (alongside alpha 6 & ko-tek) and finally 313 ( www.313.be.tf ) & RETROACTIVE as party producer. Unclassified dj, shaman is a weird synthesis of energy & sick soulful tendencies.

Shaman is also appearing with shed-shadowboxing, when 808 old school electro
meets raw hip hop & bass roots! They played with well known producers such
as dynamix ii, dj overdose, mas 2008 or Imatran Voima. The quest is the
beat, the perfect beat to make progress your mind & body to another level.
Mix & scratches, cuts, fx & beat surgery. Producing parties @ Recyclart, the
freestyle duo is one of the most innovative back to back project Brussels
can have!
Location
Vooruit
Sint Pietersnieuwstraat 23 - 9000
Gent, België