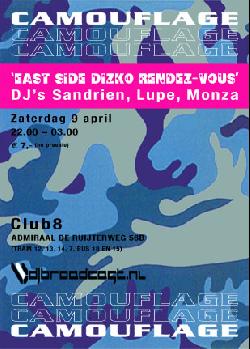 Op zaterdag 9 april vindt voor de tweede keer Camouflage plaats, dit keer in
Club8 in
Amsterdam west. Muziek? Duistere hi-energy dizko, dirty electrofunk, vuige
punkfunk en brute minimal. De DJ's? Monza, Lupe en Sandrien. De sfeer?
Camouflagekleuren & netten, jaren vijftig B-film esthetiek en lo-fi new wave
visuals. Nog wat kernwoorden? Planet rock - psycho killer - megatron man - on
the grid - rockaway beach - tommy boy - dfa – fantasy - spray can - lo-fi -
grafitti – basement- to hell with poverty… En wie de draad nu kwijt is:
CBGB's met een spiegelbol, 'old skool meets new school'.

Over Lupe:
Lupe is resident van de Acid Nouveau avonden in de Amsterdamse 11. Ook
bestiert hij het undergroundfenomeen UNK en werd genomineerd als Beste
Nieuwkomer DJ bij de GK Awards. Met zijn draaistijl, van new wave disco
naar 'happy electro' en acid is hij klaar om de wereld te veroveren!

Over Monza:
Monza draaide als DJ in zalen als Melkweg, Paradiso, Amuse, Panama, OCCI en
Lux. Als producer verschenen vanuit een analoge studio drie platen onder de
naam Monzasound, platen die hun weg naar de liefhebbers inmiddels gevonden
hebben. De 'Camouflage EP' is net verschenen.

Over Sandrien:
Van deep tech house tot electro, minimal, acid en techno: Sandrien is breed
inzetbaar, waarbij geldt dat de reactie van het publiek nooit uit het oog
verloren wordt. Sandrien draaide van Electronation en Stalker tot 5 Days Off
en Mysteryland en heeft eigen avonden in De Kring en Twstd.
Location
Club 8
Adm de Ruyterweg 56B
Amsterdam, Nederland