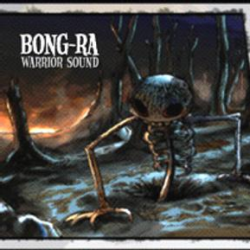 At this moment Bong-Ra is busy finalising his new album 'I am the God of Hellfire' which will be released this fall on Supertracks Records. In the meantime he has another release and not just a release but a finger licking good one: Bong-Ra's 'Warrior Sound'.

It features a selection of 13 released and unreleased Yardcore tracks from 1999 to 2005. Most tracks already appeared on vinyl on foreign labels and ready for their second or third repress..

Yardcore (also known as Raggacore) is a subgenre of Breakcore which is inspired by sound clashes, Ragga and Dancehall but with more crazy and fast rhythms en torn apart compositions. Bong-Ra is one of the pioneers in the Yardcore scene and shows with this cd what this style means.

This worldwide genre is beginning to get popular in the Netherlands and there are parties on a regular base in different clubs..
CD 1
Murder you (Old Skool Armageddon 7") (DeathSucker)
Human cargo (Unreleased)
Jah kingdom (Renegade Bubblin 12") (Supertracks)
Blood n fire remix (Renegade Bubblin 12") (Supertracks)
Giddeon war (Conquering Lion 12") (Hydrophonic)
Rise above (Conquering Lion 12") (Hydrophonic)
Killer empress (Unreleased)
Whore of babylon (Conquering Lion 12") (Hydrophonic)
Vampire youth (Darkbreaks EP 12") (Russian Roulette)
666 mph: FFF+Dionysos remix (Breakcore a Go-Go! 12") (Supertracks)
Apocalypse riddim (Conquering Lion 12") (Hydrophonic)
Blood n fire: Scud remix (Renegade Bubblin 12") (Supertracks)
Scorpions, roaches and mice (Unreleased)