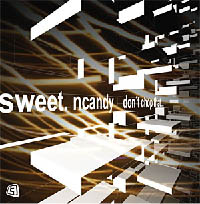 A Sugar Rush for the People!
Newly founded Berlin record label Lebensfreude has produced its first vinyl! Featuring tunes from none other than Rico Henschel aka sweet.ncandy.

Lebensfreude is known as one of the most progressive cultural associations in Berlin and has already released a number of music compilations. New sights are set on re-defining the archetypical clubsounds of the city with renowned musicians based in and outside of Berlin along with talented newcomers. Toktok, Stefan Kuechenmeister or Niklas on Sax, to name but a few Lebensfreude artists, have already established the refined musical aspect of the association. Whether live or recorded they are guaranteed crowd pleasers.

Veteran Rico Henschel has already branded himself as a Lebensfreude-artist with the bootyshaker 'Afterhours' on Lebensfreude CD Compilation II. In addition Henschel has been inspiring audiences with music releases on record labels such as Music Krause, Styrax Rec., WMFRec. and Raum…Musik.

'Don't chop that…' keeps the never ending blood flow of his sweet minimalistic house beats alive. Henschel's sound always brings the pumpin' techno base and the deep harmony of house to new dimensions of club music. Distinctly, with the track 'Abflug zu 64' Henschel shows that he knows the
birth of crowd pleasers with the first uses of C64 Outputs. Via four great tracks we bring a sugar high to the people!
Luister naar de tracks op
http://www.lebensfreuderecords.de/releases_lfv01.html
1 - A-side
Morgen war sonntag
Chop that bird
1 - B-side
Abflug zu 64
Mail