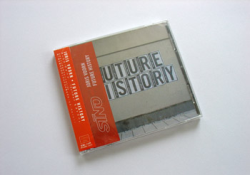 Following the huge success of Joris Voorn's 'Lost Memories' 12" series and the storming 'Incident' track which was featured in Mixmag's Big Tunes and No.1 Techno Single this June, the Dutch prodigy is set to return to the limelight with the release of his first album 'Future History' on Technasia's offshoot label, Sino.
Joris is a relatively new producer and DJ born and raised in Rotterdam, the Netherlands. In his early days he played the violin and later on changed to guitar, but when he began to hear artists like Orbital, The Orb and Leftfield, his focus turned towards electronic music.
His first release 'Muted Trax pt 1' on Dutch label Keynote was well received and picked up on by the likes of Laurent Garnier and Carl Craig. He followed this success with his first release on Sino last December, 'Lost Memories Pt.1' which caused a stir amongst the dance community and made Joris a recognised name.
If 'Lost Memories Pt 1' suggested Joris was a true talent, then Pt 2 in the series confirmed it. The piano filled 'Incident' charted in almost every dance magazine of worth, made No. 1 in Mixmag's Techno singles, was playlisted by John Peel and was championed by none other than Carl Cox.
Whilst the two 12's that have preceded 'Future History' do feature in part on the album, do not fear. This is not just another compilation of tunes built for the dance floor and then stuck onto CD in the hope of making some extra cash. This is an album in the true sense of the word.
'Future History' demonstrates Joris' talent as a musician and album crafter, along side his already proven skills as a techno producer. Trying to name standout tracks is not only made difficult by the sheer number of them, but is also missing the point.
Joris Voorn has made an album that draws on over three years work and seamlessly blends techno, breaks and electro into a 77minute soundscape that represents his coming of age. This young Dutchman has everything it takes to become huge and 'Future History' could well be the album that takes him there.
CD 1
Eclipse (spoken)
Awakening
Distant moments
Incident
Skyshopping
Year of the monkey
Believer
Don't believe everything you see
Afterlife
Clear
It ain't mine
Bionic man
Sweet narcosis
Rejected
Zeronine
Shining
Missing
Rhodes interlude
Future history
Eclipse (unspoken)