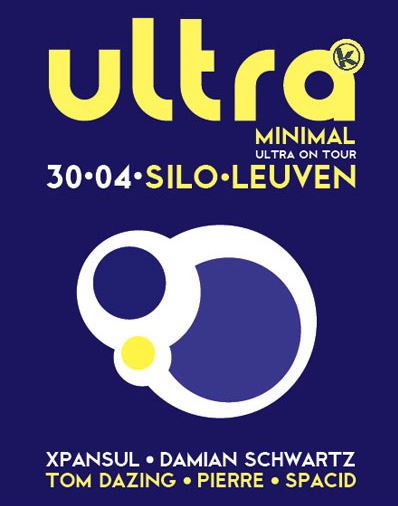 As previous parties as Kozzmozz and Retro Acid have proven that the Leuven crowd likes us and our concepts as much as we love them and the renewed Silo venue, we will now also treat them to our minimal concept Ultra !

All through electronic music's history, minimalism has played a seminal role in defining the basic structures and rhythms that have captivated so many souls and will continue to do so. But never so much as today have the basic ingredients of techno attracted so much attention worldwide.

A new generation of fresh artists from around the globe and various influential labels such as Perlon, Minus or Force Inc have shaken techno to its very foundations, questioning the essence of sound and rhythm, twisting it into a sonic spectacle of colliding clicks and bleeps, infectious basslines and hypnotic melodies all firmly layered on the universal language of the four to the floor beat. The newly reborn minimal sound has made dance-floors all over the world ever more fresh and exciting.

That's why Kozzmozz launched a concept which puts minimalism in the spotlight. Not with those names that you frequently see in Belgium but those that you can come and discover at Ultra.

And this time you can discover the new and exciting sounds originating lately from Spain. First up is Xpansul, who's release with Alexi Delano 'Intelligence Reframed' on Richie's Plus 8 label caused quite a storm in minimal techno-land. They also record together on Truesoul (Adam Beyer), Leftroom and Frankie Rec. Xpansul is the man behind the Disco de Latas label on which he has gathered artists as Alexi and Damian Swartz, next to many others.

Damian Swartz, also from Madrid, started working with Net 28, a collective of many underground labels, after meeting Alex Under with whom he's also working on the Musica Charlista project. He's mostly involved with CMYK Musik and just launched his own label Mupa.

These fast rising Spanish talents will be joined by a fast rising Belgian talent nl. Tom Dazing who has great releases out on labels such as MB Elektronics, ToysforBoys and Aesthetik. Many other tracks are also due to be released soon!

They will get the full support from veterans Pierre and Spacid who have been at the forefront of the Belgian electronic scene since the earliest days and have constantly evolved and innovated to the point where they are today: residents for the best clubs and organizations in the country and regular guests abroad.
Location
Silo
Vaartkom 39 - 3000
Leuven, België