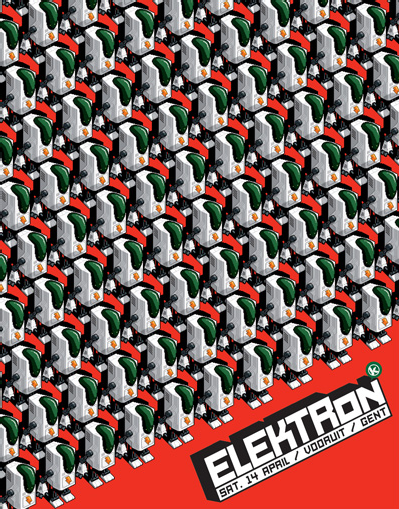 A Kozzmozz concept for people into pure break electro, Elektron will definitely be the place to be on April 14th. The Elektron parties bring you cyborg electronics and robot dance music. A place where you can satisfy your 808 bass needs and do some time-traveling, as electro is still the future of the past of electronic dance music.

Previous editions of Elektron saw the crowds going wild on the sounds of various famous electro acts such as Anthony Rother, Steffi vs. Dexter, Cosmic Force, DMX crew, DJ Assault, Novamen, Aux 88 LIVE, Bass Junkie, Dynamix II, Radio Active man, Dj Dijital, The dexorcist …, who rocked and fueled the dance-floor.

And this edition featuring the exclusive SCSI-AV tour is one for the electro and techno freaks!

For this special tour label boss Daz Quale has gathered his best artists. The mysterious and mythical duo Ultradyne will bring us a full live show, accompanied by their Dutch colleague on SCSI-av, Sonarbase also better known as Frank De Groodt and many other aliases on labels such as Djax-Up-Beats and Klakson.
Location