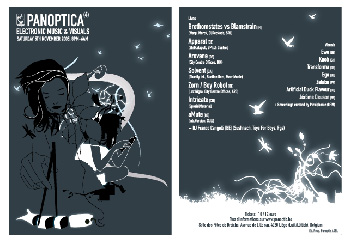 4e editie van het Panoptica festival gewijd aan electronische muziek en visuele kunsten.

Uit de mail:

"From 8pm till 6am, we present a varied line-up, where differentvariations of "electro" will meet: ambient, electronica, idm, minimal techno, abstract hip-hop breaks, electro-pop, weird
techno, breakbeats, accompanied by visuals of all kind:
pictures, super8, vjing, live painting, synthetic images, …
All this thanks to a powerful sound system and 6 screens.

The event will start off with a projection of short films and clips, curated by Plexiphonic. Including works by Modeselektor & Die Pfadfinderei, Isan/Loden & Ewo, Bart Pogoda,Anastasia Hill, raphaël/plicploc, Sehurtz, Somniscope, Ontayso, …

Below you can find the detailed time schedule, which takes into account both the artists' preferences and our wish to make the atmosphere more and more mad as the night progresses:

20h00: Screenings curated by Plexiphonic
21h00: aMute (live) + Jérôme Deuson (DVD)
21h50: Arovane (live) + Ewo (VJ)
22h45: Intricate (live) + Knob (VJ)
23h40: Solvent (live) + Ego (VJ)
00h50: Zorn / Boy Robot (live) + Artificial Duck Flavour (DVD)
02h00: Apparat (live) + Transforma (VJ)
03h20: Brothomstates vs Blamstrain (live) + Zelabo (VJ)
04h45: Franco Cangelli (dj) + mixedpics (slideshow)
06h00: Stop

For more information on the artists (bio, links, …),
please consult our website:
http://www.panoptic.be/panoptica/program.html

STANDS

Again this year, there will be a stand of Jak from the "Timeless Rec Shop" who will come with a fine selection of CDs and vinyls from his shop (http://www.timeless-network.com/).

Carte Postale records will also propose their catalogue to sell.
(http://www.cartepostalerecords.be/).

Several artists will sell their CDs and DVDs there, as well assome t-shirts. The MIH collectif will also propose t-shirts (http://www.mih.be/).

And last but not least, there is of course our traditional stand with reasonably priced meals and cakes specially prepared for you.
This year, we'll propose malaysian food: Nasi Goreng, Bihun and Cucur Bawang. And also lovely chocolate cakes and surprises. Hummm."
Location