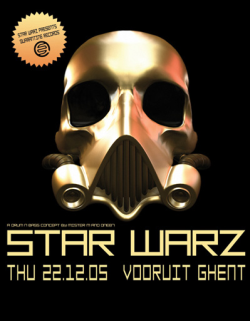 Star Warz remains the leading Drum'n'Bass event in Belgium. This was proven once more on the previous Extra Large edition when 4 rooms of Vooruit were completely filled with Drum'n'Bass headz, loving it all the way !

Star Warz always unites the biggest international names ( Goldie, Grooverider, Andy C, Ed Rush, Marcus Intalex, Doc Scott, and many more) with the most talented newcomers ( Chris Su, Artificial Intelligence, Simon Bassline Smith, Concord Dawn, … ) and big names or young talents from Belgium. As such Star Warz represents all styles and evolutions within the scene and gives their public a broad look into the Drum and Bass spectrum.

Star Warz, wants to keep innovating; not only as a concept but also as a musical genre. Of course,the crowd makes the Star Warz parties such a success: an open-minded, up-for-it public that admires Drum'n'Bass, wants to be surprised and that creates that special atmosphere that makes everybody raving!

This time we present to you the biggest names from the 'Quarantine label': Boss Fierce is making a very good name for himself and his recordlabel in the worldwide Drum'n'Bass scene. Off course, they are home to some of the most respected producers around … and more so to artists that like to venture into the unknown and explore solo-careers after having been part of some of the biggest Drum and Bass systems we know ..

We're thinking ex Bad Company member D-Bridge and Cause4Concerns Optiv who will both be present on this new edition of Star Warz. And as cherry on the cake , we have Ed Rush from Virus Recordings and the man himself; Fierce.

All will be accompanied by MC Ryme Thyme, except Millennium Kru who stay true to their favorite MC Jay. Belgium upcoming dj 'DJ Baz' will be warming up the crowd for the night…

A dream line-up if you ask us, we hope you feel the same !
Location
Vooruit
Sint Pietersnieuwstraat 23 - 9000
Gent, België