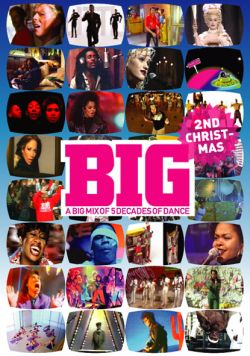 Maandag 26 december, op 2e kerstdag is de eerste editie van BiG in The Power Zone. Een doordacht concept van de Franse organisatie "GRAND" die het afgelopen seizoen niet weg waren te denken met hun concept op de talloze grote privéfeesten in Frankrijk.

Eigenlijk is het heel simpel: iedereen kent ze wel de 80's party's, de Megamixes van Sensation White, de classix, de OHAFS en de OWAPS, de platen die iedereen wil horen en die iedereen op de dansvloer vastnagelen. BiG mixt al deze concepten en muziekstromingen door elkaar onder leiding van DVD DJ Alex van Oostrom (de Club). De andere BiG Mixers van die avond zijn Sander Hucke (T-Dansant) en William Shagspeare (Sneakerz).

Kortom: A BiG Mix of 5 Decades of Dance, ondersteund door diverse visuals en het dansspektakel van Angels Angels. Uiteraard is er een Cocktail en Champagnebar om de laatste Kerstdag uit te luiden. Gegarandeerd een BiG MIX deze 2e kerstavond, waar de nodige kerstpondjes er met gemak van af zullen vliegen.
Location