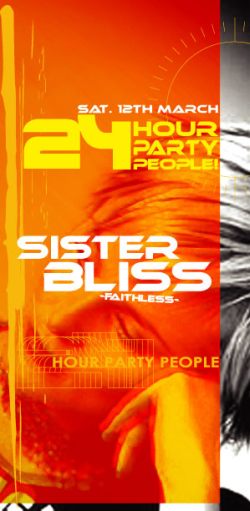 24Hour Party People!
Nieuw concept van XCess Events en FCA-Music in de Powerzone

Nu kan er alleen nog over gepraat worden, maar vanaf 12 maart kun je het beleven: 24Hour Party People! gaat dan zijn eerste editie beleven in The Power Zone in Amsterdam. En niet met de minsten: Sister Bliss (Faithless/UK), Benny Rodrigues, Don Diablo, Kid Goesting en Miss Nine hebben de eer om de eerste editie vorm te geven.

Waarom 24Hour Party People!?
De naam is afkomstig van de gelijknamige Engelse film over het leven van Tony Wilson en zijn bijdrage aan 'The Hacienda', New Order, Joy Division, 'Madchester' en Factory Records. In die film staat feesten centraal. Dat is wat de XCess en FCA-Music dan ook willen overbrengen met 24Hour Party People: een feest voor die mensen die 24 per dag zin in een fee! stje hebben, die er een levensstijl van hebben gemaakt. Daarvoor is 24Hour Party People! opgezet. Het is voortgekomen uit de samenwerking die XCess en ROCKIT met elkaar waren aangegaan vanaf 11 september 2004.

Wat je verder kan verwachten
24Hour Party People zal op twee-maandelijkse basis gehouden worden in The Power Zone, op de tweede zaterdag van de maand. Benny Rodrigues is de resident die er dus altijd zal zijn. De overige programmering zal zeer breed zijn, net als de eerdere edities van de organisatie in de Powerzone waar er gevarieerd werd van Technasia tot Audio Bullys, van Gene Farris tot Joost van Bellen, Kid Goesting, Roog, Funkd'Void, Eric de Man en veel meer. Vrijwel alles kun je bij 24Hour Party People verwachten.
Location