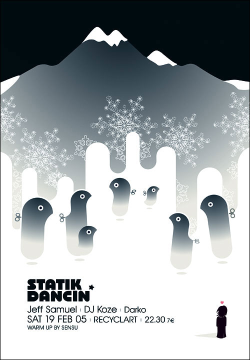 Koze
Dj Koze komt uit de hip hop en gebruikt die techniek om zijn minimale sets op te frissen met allerlei breaks en scratches. Hij maakt deel uit van International Pony (met Erobique)en heeft oa Tocotronic, Egoexpress, Blumfeld, Märtini brös, Chicks on Speed geremixed…

Jeff Samuel
Jeff Samuel is the second american producer besides Jacob Farley who produces on Traum / Trapez alongside Canadas mega export Akufen. Jeff Samuel is internationally known for his nice music and had some brilliant Eps out not to mention the one on Daniel Bells label 7th City. Jeffs Fcote EP on Trapez incorporates both funkyness and dancefloor ability. The fine line he walks is unique and combines european and american ways to create Techno music. His deepness is well appreaciated, since a lot of releases on Trapez were quite lyrical and deep, quoting on Nooncat and Gabriel Ananda.
His records was mastered by Olaf Dettinger of Kompakt and sees his special magic transfered on to it.
Jeff Samuel has been a DJ for 7 years and is known across the midwestern United States for his unique style of mixing.
With his first demo he was signed to Frankfurt's Lo-Fi Stereo Recordings in 1999. His eccentric, funky and blipped out style soon caught the attention of Daniel Bell, who signed him to 7th City. The German mag de :bug called Jeff Samuel "…an American counterpart to Dr.Rockit" and his records consistently receive high marks among magazines such as Groove.
Location