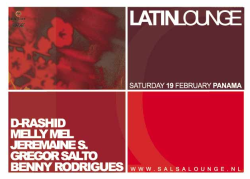 Bij de afgelopen editie van LatinLounge in Panama vonkten de latin beats en breaks door de speakers van Amsterdams mooiste club. Daarom gaan we in herhaling om Panama weer op latin stelten te zetten.

LatinLounge is de spin off van SalsaLounge, met het enige verschil dat er geen salsa area is maar wel een latinhouse en latin eclectic area. In de latinhouse zaal zullen Benny Rodrigues, Gregor Salto en de resident D-Rashid laten horen waarom zij Nederlands meest rockende dj's zijn.
Benny Rodrigues staat bekend om zijn funky techhouse maar zal speciaal een latin set ten gehore brengen. Gregor Salto heeft onlangs een 12 inch uitgebracht genaamd 'can't stop playing' met grootmeester in de latin Dr. Kucho, wat nu al een grote clubhit is!

Natuurlijk wordt de avond afgesloten door de pioneer van latinhouse D-Rashid. Met zijn sets op Innercity, Luxurush en Ambassador heeft hij al bewezen dat hij bij de top van de Nederlandse dj's hoort!

In de latin eclectische area zal de Miami bass sound knallen door de speakers door de dj's Melly Mel en Jermaine S;
een mix van latin en eclectische sound op een unieke bombastische manier.

Met een rockende line-up van Nederlandse beste latin dj's gaan we 19 februari een statement maken in Panama….Get ready to be rocked!
Location
Panama
Oostelijke handelskade 4
Amsterdam, Nederland