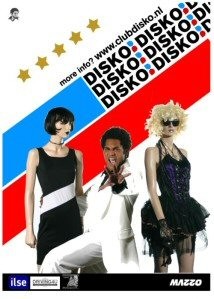 DISKO is een prikkelend antwoord op de behoefte aan wat anders dan de gebruikelijke clubavonden. Clubavond DISKO is design, fun en een eigentijdse beleving van het oorspronkelijke discogevoel verzorgt door Sugardaddy & His Angels.
70's, 80's and 90's mixed with todays finest House music.

VIP DISKO-treatment
Het VIP DISKO-treatment houdt in dat de winnaar met vijf vrienden gratis entree heeft voor DISKO. Sugardaddy trakteert op de DISKO cocktail en om de VIP-treatment compleet te maken wordt de winnaar opgehaald met een zeer luxe limousine dat mede mogelijk wordt gemaakt door Driving4U. Het enige dat daarvoor gedaan moet worden is het versturen van een e-mailtje naar info@clubdisko.nl met vermelding van naam, telefoonnummer en e-mailadres en de reden waarom jij verwend moet worden!
Location
Mazzo
Rozengracht 114
Amsterdam, Nederland