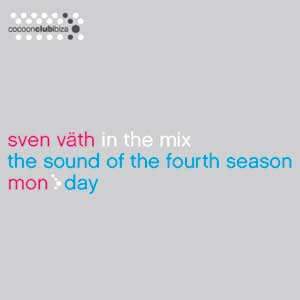 Net zoals na de afgelopen 3 zomers komt ook dit jaar Sven Väth weer met een "Sound of the Season". Vorig jaar was de cd samen met Richie Hawtin. Sven gaf een impressie van de muziek binnen de club en Richie een impressie van de afters en dat op één cd.
Dit jaar heeft Sven zelf twee cd's in elkaar gemixt.
Als je Sven deze zomer hebt horen draaien en je verlangt terug naar dat moment, is deze cd een echte must! Met nummers als 'ADA - Arriba Amoeba', 'Paul Jackson - The Push' en 'Ricardo Villalobos - Easy Lee' zit je zo weer op Green & Blue en met nummers als 'Marco Carola - Diapason' en 'T.Raumschmiere Monstertruckdriver' ben je zo weer op Mysteryland!
Een heerlijke cd dus die als herinnering aan de afgelopen zomer niet in je collectie mag ontbreken!


Having ended the Fourth Season in Ibiza with a monster Closing Party, Sven Väth is again delivering his opinion of the world in the form of a Double Mix-CD on his label Cocoon Recordings. According to this year's motto "In Your Face", the first CD starts with more technoid slammers; straight and classic – tracks, which attack you like a wild animal. Sven opens his set with Funk D'Voids extraordinary 'Emotional Content' and proceeds via ADA and LFO to T.Raumschmiere's masterpiece 'Monstertruckdriver' – a track, from which Sven could not keep his fingers away for the whole summer…
CD 1 ends with Ingo Boss' recently released track 'Little Eternity', a wonderful piece of fluffy electronic Techno. The second CD is a little more confusing than its pendant, with Ricardo Villalobos' 'Easy Lee' from his new album, Dntel or Jackson Fourgeaud as explicit examples. The last track is 'Artamis' by high-flyer Luciano. The pleasant Swiss could easily be called the revelation of this summer and is both, a talented producer and a skillful DJ.
With 'The Sound Of The Fourth Season', Cocoon Recordings continues its series "… in the Mix" and releases Sven Väth's fourth Mix-CD.
CD 1
Funk D'Void - Emotional Content
Paul Jackson - The Push
Dub Kult - Bells of Death
Tres Demented - Demented (or Just Crazy)
ADA - Arriba Amoeba
LFO - Freak
T.Raumschmiere - Monstertruckdriver
Codec & Flexor - Black Diamond
Matt French - Die Rakete
DJ Tonio & David Carretta - My Telephone is dead
Marco Carola - Diapason
Cassy & Dave the Hustler - Her Dream (David Carretta Remix)
Ingo Boss - Little Eternity
CD 2
Jay Alansky - Bud Life
L'Usine - Push
Ricardo Villalobos - Easy Lee
Château Flight - Cosmic Race
Sten-TV - My Sweet Glockenspiel
weltZwei - Expander (Carsten Jost Remix)
Phonogenic - Togetha
Bangkok Impact - The Floor
Lopazz feat. Alex Cortex - I need Ya
Primal Scream - Autobahn 66 (Alter Ego Remix)
Dntel - (This is) The Dream Of Evan & Chan
Jackson Fourgeaud - Radio Caca
Luciano - Artamis