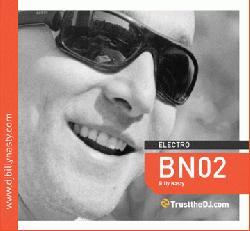 De cd is verkrijgbaar via de website van Trust the DJ en zoals gebruikelijk bij Trust the DJ een reactie van de DJ:
I've taken a slightly different direction in this, my second album for the TrusttheDJ mix series, showcasing some of my favourite electro producers who have turned my ears towards electro over the last four of five years.
In my travels, I've noticed that clubbers are tiring of the same old cliché ridden dance music styles and are looking for more interesting and unique sounds. That's where I think electro fits into the equation. For me, a movement that was started by Kraftwerk in Germany, and kept alive by Detroit, is now blossoming into one of the most exciting and dynamic forms of music I have experienced; it's now made and played by artists and DJs from all over the world.

It was this thinking that helped me start my second record label, Electrix. Its philosophy is to take the best of electro, and mix it up with house and techno, or to take the minimal techno of Basic Channel and shove a rocket up its arse. Essentially, Electrix aims to make these much ignored musical genres more playable, mixable and dance-floor friendly while still remaining experimental and cutting edge.

Listen to this with an open mind (and ear or two) and I am sure you will enjoy it. Thanks to all the artists and labels involved on this mix, and it's time for you, the listener, to pledge your allegiance to electro funk.
CD 1
Blotnik Brothers - Taxi Simulator [Just a Groove]
Deliquent Dialect - Humanoid Machine [Templedog]
Bolz Bolz - Musik [Easytime mix] [World Electric]
Scape One - Retropolitan [Tortured]
Scape One - Startide [Tortured]
Anthony Rother - Die Macht [PSI 49 Net]
Dynamix II - Pledge Your Allegiance to Electro Funk [Monotone USA]
The Hacker - Nothing Lasts [Missile]
Chris McCormick - What Kind Of Sound [Materials]
Netzwerk Florida - Earth. Wind. Fire/ [PSI 49 Net]
Labor E - Spannungsabfall [PSI 49 Net]
Carl A. Finlow - Polygon Girl [Device]
Scape One - Simple Machines [World Electric]
Radioactive Man - The Mezz [Rotters Golf Club]
Remute - Hypnoconsole [Dekathlon]
Frequenz Berater - Corvette [PSI 49 Net]