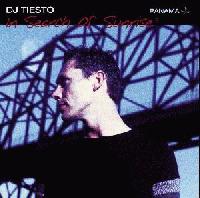 In Search Of Sunrise is Tiësto's tribute to beaches, sun and Ibiza, open air venues and those long summernights. Please welcome In Search Of Sunrise 3, the latest addition to the evergrowing success of DJ Tiësto.

It's been over 18 months since Tiësto released In Search Of Sunrise 2. After the release of his artist album In My Memory, and his extensive travels and tours around the world, he has selected his best tour records, and has added some of the most beautiful gems in electronic music today.

Included is Tiësto's warm remix from Paul Oakenfold's Southern Sun, and the future hitsingle Summer Calling by Andain, Josh Gabriels new band. Other favourites are DJ Hooligan "Hear You Now", Starecase "Faith" and the classic Nalin & Kane "Open Your Eyes". Of course the mixing is flawless, and that summer vibe is back again. Bring it on!
CD 1
Noa Assembly - Into The Fire
DJ Hooligan - Hear You Now (Grand Chillas Mix)
Starecase - Faith (Loafer Mix)
Andain - Summer Calling (Josh Gabriel Mix)
Solar Stone - Solar Coaster
Tremor - Meia Lua (steve Gibbs Mix)
DJ Tiësto - In My Memory (Gabriel And Dresden Elephant Memory Vocal Mix)
Argonaut - Your Body Is A Temple
World Clique - Don't Do It
Chiller Twist - Stringz Ultd. (Shelley Mix)
Paul Oakenfold - Southern Sun (DJ Tiëso Remix)
Accessive Rhythm - Activate
Way Out West - Mindcircus (Gabriel & Dresden Remix)
Nalin & Kane - Open Your Eyes
Jericho - Personal Reflexion