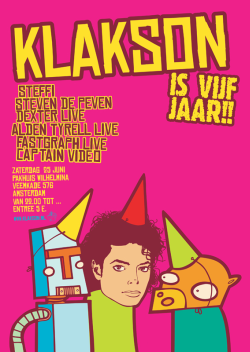 25 juni geeft KLAKSON een feest ter ere van het 5 jarig bestaan van het label. Het Wilhelmina Pakhuis is die avond het decor voor de optredens van Dexter (live), Alden Tyrell (live), Fastgraph (live), Steffi (dj), Steven de Peven (dj) en Captain Video (beam).

Het platenlabel KLAKSON werd in 2000 opgericht door Steffi (dj), Dexter (dj/producer) en Steven de Peven (dj). Datzelfde jaar komt hun eerste, door Dexter geproduceerde, release "i don't care" uit en slaat in als een bom. De verkoopcijfers liegen er niet om. In de jaren daarna releasen ze muziek van artiesten zoals Fastgraph, Duplex, Mesak (FI), Seymour Bits, Pauli Jylhankangas (FI), Mr. Cisco (IT). De toon is gezet en Nederland is een internationaal gerespecteerd label rijker!
Steven de Peven besluit na een tijd zijn eigen weg in te slaan en nemen Steffi en Dexter samen het roer over. Samen zijn zij de drijvende krachten achter KLAKSON, maar volgens hen bestaat het label niet alleen uit hun, maar juist ook uit "alle artiesten die op KLAKSON muziek uitbrengen, mensen die ons helpen met de website, hoezen en natuurlijk alle aanhangers!"

Inmiddels heeft KLAKSON 11 goed verkochte releases op zijn naam staan en de licentieaanvragen zijn talrijk. Zo zijn er tracks verschenen op compilatie cd's van gerenommeerde dj's als Dave Clark (World Service), Dr. Lektroluv (The New Preskription of Dr. Lektroluv), Playgroup (DJ-Kicks) en o.a. op labels zoals Mute (Rough trade shops), Fabric (tyrant), City rockers (Futurism), Urban theorie (Electroclash), Longhaul (Radioactibe man vs transperant sound), 541 (Switch), Incredible (This is not the 80-ies) .

Op dit moment wordt er gewerkt aan een verzamel cd van het label. Verder zullen er dit jaar ook nog 12 inches van Raiders of the Lost Arp (IT), Alden Tyrell , Fastgraph en van Dexter verschijnen.
Location