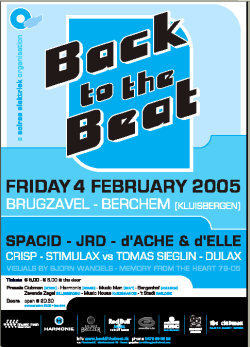 We richten ons op een 'clubpubliek' van het zuiden van West- en Oost-Vlaanderen. Back To The Beat wil hen een geslaagd "underground"-feest aanbieden zonder dat ze zich hiervoor naar Gent, Brussel, Antwerpen of Leuven moeten verplaatsen!
We streven naar een leuke party met meerwaarde. Visuals zijn een key-element in het concept. Light en sound moeten van uitmuntende kwaliteit zijn. Hiervoor trekken we allemaal jonge, gemotiveerde en energieke mensen aan. Back To The Beat geeft plaatselijk talent de kans om zich te bewijzen. Er zullen Ronsische & Oudenaardse dj's, in combinatie met iets bekendere namen uit de undergroundscene, plaatjes draaien. Verder hebben we enkele dj's aangesproken die de betere elektronische dansmuziek draaien, zoals Spacid (I Love Techno, Culture Club) en JRD (Technoir, 10daysoff).
Techno, elektro en new beat zijn de voornaamste genres die we die avond op het publiek loslaten.
Location