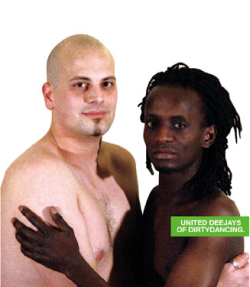 Een van de eigenschappen van de resident dj's van Dirty Dancing is hun muzikale eclecticisme, om niet te zeggen hun muzikale anders-zijn. En van die residents passen Mandrak en Murvin Jay ongetwijfeld perfect in dat plaatje. Toen we merkten dat hun verjaardagen op nauwelijks een paar dagen van elkaar verwijderd waren hebben we beslist om ze ook samen te vieren en hebben we hen voorgesteld om de hele nacht lang samen te draaien. Dat belooft een even verrassend als boeiend avondje te worden, dat in elk geval super Dirty zal zijn! Ze hopen op uw aanwezigheid om hun verjaardag waardig te vieren! Happy Birthday M&M…

And long life to the 'United Deejays of Dirty Dancing'

The Hell (main room)
Murvin Jay, Mandrak

From 22h00 in Café DIRTY
Dirk Eskimo

Tot 00:00 uur 5 EUR entree.
Deur open tot 04:00 uur.
Location