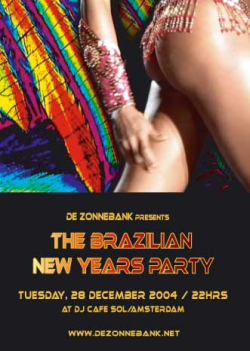 We are pleased to announce the first new years evening celebration from De Zonnebank, THE BRAZILIAN NEW YEARS PARTY, on Tuesday, the 28th December, 2004 at DJ Cafe SOL, starting at 22hrs.

For that, we have put together a group of the finest artists to make sure you have a fantastic night. In veteran DJ Graham B. (Electro Coco) we found just what was needed to start the evening in style. Headliners for the night are resident DJ Zozonic who will take over next. His Brazilian oriented house style will show you why he is one of the Brazilian's best DJs and a favourite with De Zonnebank crowd. During the whole night VJ Sergio Ulhoa will lift you up with his amazing imagery universe.

Just as you thought things couldn't possibly improve, DJ Lava (Unk) will hit the decks running with his trade-marked electro house set, full of the very best tunes to keep you dancing. Next up, DJ Pullsanti (Disco Voador) debuting as the newest De Zonnebank resident. His energetic DJ set on the end of the night will leave us in no doubt what an asset he is to our team.

Mix this all with a great guest appearance from dancers Eduardo de Souza, Viviane dos Santos and Lucas Kalu, alongside with resident bombshell Ana Aragão which will add up to an incredible Brazilian New Years Party. So for a Christmas or new year's evening present no houseparty fan can do without, make sure you come along on Tuesday the 28th of December at one of the best funky clubs in town, DJ Cafe Sol. Get a bit of sun in december at the first new year celebration of De Zonnebank / clubnight!

- Zozonic (resident)
- Graham B (Electro Côco)
- VJ Sergio Ulhõa (resident)
- Lava (Unk)
- Pullsanti (Disco Voador)
- Hosted by Ana Aragão
- Special Appearance : Eduardo De Souza, Viviane dos Santos & Lucas Kalu.
Location