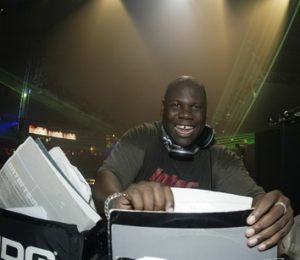 Carl Cox & Friends: Housewarming in Ahoy' op 9 april !
Hoe meet je eigenlijk de populariteit van een DJ? Door zijn boekingen, remix credits, cd albums, sponsorships en inkomen bij elkaar op te tellen? En moet je daar dan vervolgens de radio en tv optredens en celebrity status bij voegen? Of gewoon de vrienden tellen die naar je optreden komen?

Het beste dance 'true house event' van 2004, zo werd de 1e editie van Carl Cox & Friends betiteld. Tijdens dit door UDC (Dance Valley, Impulz Festival, Strike One) geproduceerde mega spektakel kreeg Carl Cox 10.000 vrienden op bezoek en Ahoy' aan zijn voeten. Op 9 april aanstaande zal het niet anders zijn. De kop van dit stuk is een vrije vertaling van het Carl Cox & Friends thema van dit jaar: My house is your house and your house is mine. Ahoy' kan zich opmaken voor een nieuwe invasie van Carl Cox en zijn huisvrienden!

'Vrienden inspireren elkaar tot bijzondere prestaties' zegt Carl. Op zijn site betitelde Carl Cox enkele dagen na zij optreden destijds zijn showcase in Rotterdam als een van de absolute hoogtepunten uit zijn carriere. Carl Cox over Carl Cox & Friends op 9 april aanstaande:' Well, what can I say, everything I hoped for came true last year. So for this year's event I sat down, put my thinking cap on and thought… What bit did I Like , what did I not like (very little!), How do I make it better. So the team and I got together and decided to bring you a house party, my house party!

The host of the evening van Carl Cox & Friends op 9 april in Ahoy', behoeft bijna geen introductie: de ontdekker, de vernieuwer, altijd op zoek naar grenzen, geroemd door zijn collega's, de ongelofelijke energie, de dampende sets en de dj met de grootste schare fans van de wereld. Tijdens de weergaloze show van vorig jaar bleek rasentertainer Carl Cox naast een magistrale DJ ook een begenadigd MC die iedere nieuwe vriend op zeer persoonlijke wijze in zijn show mixte. Dit jaar gaat hij weer verder en met 'a touch of techno' zoals Carl het zelf aanmerkt. Op 9 april aanstaande is de 6 uur durende live set van Cox onderdeel van het 9 uur durende spektakel en vanzelfsprekend het hoogtepunt van de nacht. En daarbij wordt hij bijgestaan door echte vrienden. De immer goedlachse reus uit Engeland neemt ook dit jaar weer zeer getalenteerd gezelschap mee: home turf Michel de Heij, vriend voor het leven Johan Cyber, Umek back2back met Valentino Kanzyani, de vocalisten Saffron en Onallee, local Techno hero Joris Voorn Live en last but not least percusionist Pablo.

'Once again this year you can expect good music, amazing production, a flawless sound system and a star studded line up of both DJ's and live performers that are not only my peers, but also my friends' beloofd Carl. 'All of this rolled into one with you the party people can mean only one thing: Once again we will rock the house…OUR HOUSE!
Location