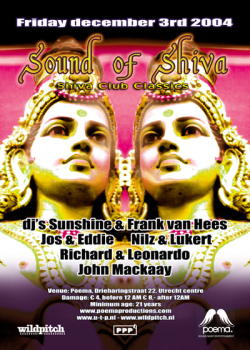 In de mid -jaren negentig was Club Shiva de meest toonaangevende house -club van Utrecht.

Naast resident dj's John Mackaay, Freddy B, Jos & Eddie, Nilz, Leonardo, Rob & Frank van Hees en Sunshine, kwamen er geregeld gast -dj's van nationaal en internationaal formaat.

Dimitri, Remy, Jean, marcello, 100% Isis, Derrick May, Stacey Pullen, Miss Monica, Joost van Bellen en vele anderen, draaiden graag in de kelder aan het grágie.

Bij Sound Of Shiva zijn louter bekende en onbekendere club classics te horen uit deze periode: 1993 - 1997

Dj's (in order of appearence):
Sunshine & Frank van Hees
Jos & Eddie
Nilz & Lukert
Leonardo & Richard
John Mackaay

Voor 00:00 uur 4 EUR entree.
Location